4 STEPS TO IDENTIFY AND LAUNCH YOUR FAMILY LEGACY
4 STEPS TO IDENTIFY AND LAUNCH YOUR FAMILY LEGACY |  Robin Steele
You can purchase the eBook on Amazon($2.99)  OR  Sign up for our Newsletter  (blog posts) and download Robin's new eBook for free!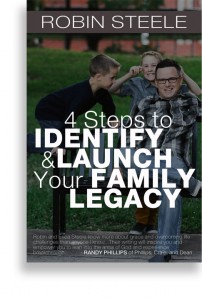 What's the eBook all about?At some point after your first child is born, a thought crosses your mind and a cold chill runs down your back.  "Oh my goodness…I'm the parent."  No one else is in charge.  It's up to you (and your spouse).  How are you going to make sure your kids don't grow up to be losers?
My wife, Erica, and I have been parents and pastors for over a decade now. We have three kids.  For clarity, I don't claim to be an expert at parenting styles or methods.  However, we have seen the complete spectrum of family history and identity and have come to one conclusion: parents matter.  These positions (dad and mom) were created by God to set the course for the most instrumental unit in the world.  The Family.  You could break the world down into many different kinds of sections and segments, but "the family" influences the worlds economy, sociology, violence, health, happiness, and almost any other factor you can come up with more than any thing else.
The purpose of this eBook is to give you 4 steps to START setting up a family legacy that will make an eternal, positive difference. DISCLAIMER: After spending 45 minutes reading this book, your family issues won't be solved.  However, we believe you could be on the right course for success.  It's a quick read, but a long process.
To get the book and our updates, simply insert your email below, confirm your subscription and you will be sent to a page to download the book. (the whole process takes about 3 min)  Why would you want to receive our newsletter?