Get to know us.  The messy, funny, faithful Steele Family!  From marriage, kids, faith in God, difficult diagnoses, severe food allergies, pastoring a church, trying to live healthy,  the list goes on and on.
Get Free Stuff
How Do We Become Whole?
Here are the message notes from Robin's talk at Life Austin.  It is a message based on John 5:1-10 when Jesus made a man 'whole'.  You can listen to the podcast here.
John 5:1 After this there was a feast of the Jews; and Jesus went up to Jerusalem. 2 Now there is at Jerusalem by the sheep market a pool, which is called in the Hebrew tongue Bethesda, having five porches. 3 In these lay a great multitude of impotent folk, of blind, halt, withered, waiting for the moving of the water. 4 For an angel went down at a certain season into the pool, and troubled the water: whosoever then first after the troubling of the water stepped in was made whole of whatsoever disease he had. 5 And a certain man was there, which had an infirmity thirty and eight years. 6 When Jesus saw him lie, and knew that he had been now a long time in that case, he saith unto him, Wilt thou be made whole?
Jesus is not just saying, "would you like to change this or that", but "would you like for your body, soul, and spirit to reflect the glory of God?"
What would that look like?  Our temptation is to believe that wholeness means success at the job, no more fighting with the spouse, no more diabetes or chrones disease, no more fat.  Teenagers would say no more acne, no more tests, no more pressure.  No more Donald Trump. 🙂
Most of us, in our more honest moments, will admit there are deep layers beneath our day-to-day awareness.
Icebergs are a great analogy for this concept.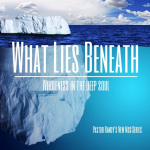 Only 10 percent of an iceberg is visible to the eye. This 10 percent represents the visible changes we make that others can see. However, our soul and spirit reside under the surface and actually make up a bigger portion of 'who we are' than the small percent that everyone sees on the outside.
If we spend all of our time working on or thinking about the 10 percent, we will starve the most important parts of our makeup.
We find wholeness from Christ when we surrender our entirety to him.  We often don't do this on our own, but it takes a serious life-changing experience to wake us up and focus on the unseen.
Pete Scazzero in his book, Emotionally Healthy Spirituality says:
"When we deny our pain, losses and feelings year after year, we become less and less human. We transform slowly into empty shells with smiley faces painted on them. But when I begin to allow myself to feel a wider range of emotions, including sadness, depression, fear and anger, a revolution in my spirituality is unleashed."
Jesus wants to make you whole! Jesus wants to make you whole! Beginning today!
In 2001, Erica and I were expecting our first baby. We were so excited! We were dreaming about all the things he or she would do and become. Where would she go to school? What would her profession be? How would she serve the kingdom of God?
As I said earlier, I was a children's pastor on staff with Pastor Randy. We were expecting nothing but the best. We had grown up in church and knew God. Loved God. Worshiped God faithfully.
At 7 months, we had our first sonogram. And the sonographer told us that she wasn't seeing something important and gave us a referral to see a specialist later that afternoon.
I left the appointment, went back to church and walked into Pastor Randy's office and said, "They said there was a complication, but I don't think it is any big deal." We prayed and then later that day we went to Dr. Berry's office. He confirmed that our daughter had a profound disability. That "thing" they couldn't see was her brain. She had severe hydrocephalus and the outcome was not going to be good. She would be mentally retarded, deaf, possibly blind, short life span. Dr. Berry was so nice to us. I pinched myself. I wanted to simply start the day over again. We went home and cried and prayed and talked to family and cried and prayed and talked to family.
Every time we went back for a check up the prognosis was worse.  Eight weeks later, we had a scheduled C-section, and our beautiful daughter was born.
The next day, Kennady had an MRI to see the extent of her condition. The brain surgeon walked in that dark room and said, "Your daughter's condition is worse than we thought, not only does she have hydrocephalus, but she also has Alobar Holoprosencephaly. Her brain did not divide into two halves. She will probably live between 6 months and a year. We can put a shunt in to relieve some of the pain but it will not change her condition. You can simply take her home and enjoy her." We decided quickly to do the surgery!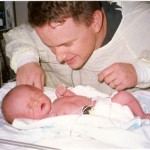 We wanted to give Kennady every chance possible to defy the odds. The surgery went well. Two or three days later, we were sitting at her bedside in the ICU.  I happened to look down at the end of the bed and see the doctors notes for the next shift. He had scribbled in the notes, "The parents know that their daughter will not have a meaningful life."
When I read that statement, anger welled up in me. I wanted to lay hands on that doctor but not in a pastoral way, but sort of a Chuck Norris way.
Who defines Meaning? Who defines Wholeness?
How do we determine what is meaningful?
How do we become whole?
I'm happy to say that in a couple of months Kennady will be turning 14 years old!
She has a lot of differences than us. She is unable to walk or talk. She is tube fed and requires someone to care for her all her needs.  She is the happiest 8th grader you have ever seen in a wheelchair.  She speaks to us with a contagious smile.  Your heart will melt when you take her by the hand, and she starts giggling.  She doesn't know about the tension in the Middle East.  She has never met a stranger and has no clue that people stare in the grocery store.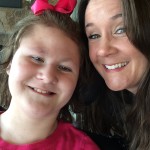 Look at that picture and tell me if Kennady is meaningful.  Does she have meaning?  Could she be whole if she never walks or talks? Could she be valuable if she never produces anything. If she never does anything?
In the last 13 years, we have found this about being whole.
Wholeness is about BEING.
Kennady is awesome at being a "human being". She is awful at being a human doing.  Most of us (because we can do some things really well) think we get our value from our acquisitions, our accomplishments or production.
HERE ARE 3 PRINCIPLES OF BEING WHOLE